Son's visit
PMF on observation deck, Umurbrogol Mtn., SW towards Anguar. (Photo by
Tangie Hesus)
PMF on observation deck, Umurbrogol Mtn., NW towards Orange Beach. (Photo by Tangie Hesu)
Peleliu. It is a quiet, tropical island in the Western Carolines; a state in the Republic of Palau; a place where there are sandy beaches, limestone cliffs, caves, very few road signs and many reminders of World War II. The war transformed this tranquil island into a fortress when Japanese forces, consisting of many veterans from the campaign in Manchuria, displaced the Peleliuans and fortified the natural topography and geological features for the sole purpose of inflicting the greatest number of casualties on U.S. Marines. Peleliu became the scene of one of the bloodiest battles of World War II.
Late in his life, when an interviewer asked Bob Hope about his most moving experience while entertaining U.S. troops during a decades-long career, comedian Bob Hope did not hesitate to solemnly reply that it that it was in Pavuvu–a special show for the First Marine Division as they prepared to invade Peleliu. It was not on his original itinerary. Pavuvu was itself a muddy, rat-infested Devil's Island. Later, Hope said that he believed 60% of those Marines died in the Battle of Peleliu.
The Rock Islands of Palau arguably contain the best sites for scuba divers on the planet. Their names are legendary: Blue Corner, Blue Hole, Peleliu Express, Ngedebus, Ulong, and Saies Drop-Off. They are world-class dives with changing, high-velocity currents and abundant aquatic life. What stands out in my mind after visiting in March 2004 is a continuous stream of imagery: scuba diving-betel nut-battlefields-my guide, Tangie Hesus-storyboards-barracuda sashimi-schools of big-eyed jacks-trevally-scores of sharks on every descent. Yet it all pales in comparison to the profound impression left by the invasion beaches, steep cliffs, treacherous caves and the debris of war on the island of Peleliu.
This story cannot be measured by depth or pressure gauges. The Peleliu battlefield is on the other side of the world, and our eyes are focused elsewhere on different wars in 2004. Yet, although Peleliu is far away in time and place, it provided a defining moment in the history of the First Marine Division and the young Marines who went into battle. One of them was my father.
The idea for a website and book came from my sister, who manages volunteers at a hospice. During her visits to see patients and check on their caregivers, she encounters many veterans and hears many stories about the war. These men did their duty and use their last breaths to express what it meant to them. Many have led productive lives; others became lost in alcohol, depression and fear.
The tragic irony is that the battle wasn't necessary. General Douglas MacArthur was moving on the west towards the Philippines and Fleet Admiral Chester Nimitz took the eastern route. Admiral Halsey had doubts about the need to take Peleliu, but MacArthur convinced him that he needed the airfield to protect his right flank. The Marines of the First Division were told it would be rough, but a 3-day walkover. The battle raged for months. Casualties were high. The beach was 200 yards from the reef. The landing beaches were covered with heavily fortified enfilading fire. The hard coral on the White Beaches extends all the way to the jungle where the enemy was entrenched despite the pounding of U.S. Navy battleships for several days.
Much of the official literature and many of the personal narrative accounts describe the battle as a "meat grinder." Eight Marines were awarded the Medal of Honor, including Captain Everett Pope who graciously helped me learn what to do and what to expect on Peleliu. He also gave me the contact information for Tangie Hesus, the best battlefield guide for Peleliu.
When you ask most veterans to tell their story, many can remember places, dates, weapons and the inevitable stench of war. Few feel comfortable telling what it was really like for them. Pope told me that many who served and survived The Battle of Peleliu suffered from nightmares and trauma, even while raising families and establishing civilian careers. I believe this is true for many who have been in combat. A common retort is, "You had to be there to truly understand."
One day in the summer of 2003 I attempted to interview my father, but it became clear to me how difficult it would be for him to divulge those haunting memories. Given the tremendous respect and admiration I have for my father, as well as for all the others who did their duty and fought on those battlefields worlds away, I realized I had to see Peleliu for myself. The next logical step was a determined decision to make my way to the place where military and personal histories were forged in the crucible of fierce battle. This story had to develop from my own journey to trace his footsteps in World War II. I had to observe, interpret, analyze and, more importantly, absorb its emotional impact.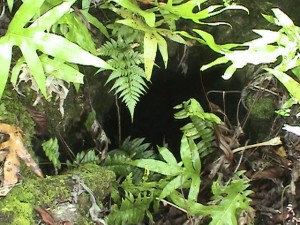 Cave hidden in the Umurbrogol Mtns. (Photo © 2004 Patrick Finelli)
It was very emotional to climb Hill 260 (GPS: N 07° 00.726′; E 134° 14.137′), the place where my father was wounded by bayonet, and the Umurbrogol is littered with caves. Many times I found myself standing next to a sheer drop-off with treacherous limestone formations below, and the cliff itself was covered with foliage. It is difficult to imagine how anyone survived that island in combat. I had the latest gear carrying a high tensile carbide trekking staff and was in top physical shape. It was tough.
The 200mm gun overlooking the Horseshoe and airport might have inflicted serious damage and the OP (observation post) is virtually invisible, although noted military photojournalist Phil Orr told me that the gun was never used; no 200mm shells were found on Peleliu. You can see from the comparison of the 1944 and 2004 pictures that there is not much difference except rust.
| | |
| --- | --- |
| | |
| 200 mm artillery emplacement, 2004. (Photo © Patrick Finelli) | 200 mm artillery, 1944. (Photo Courtesy Gabe Ineichen) |
One of the best tips I received from Phil was to take Gatorade. I brought two bottles, but Tangie stopped at three different stores on Peleliu and each one had nice cold beverages or ice cream. I would never have recognized them as stores since they looked like every other building except for the sign marked "Open." Although a can of Orange Crush or Fanta was only sixty cents, Tangie would always try to bargain the price down. He was my friend and watched out for me out of respect and loyalty for Everett Pope and my own father whom he had never met.
Prior to traveling to Peleliu, I learned a lot while scuba diving in Chuuk on the Truk Odyssey. Truk Lagoon (as it is known to most Westerners) reveals a great deal about some of the important strategies and outcomes in the Pacific during WWII. It gave me an extraordinary respect for the U.S. Navy as well as for the dangers faced by the USMC for two new reasons.
The first was the success of "Operation Hailstone" against the Japanese naval base in Truk Lagoon in February 1944. Naval Hellcats, Avengers and Dauntless dive-bombers from the carriers Enterprise, Essex, Belleau Wood, Intrepid, Bunker Hill and the second Yorktown conducted an effective raid.
Japanese Admiral Kurita's 2nd Fleet left Truk early with many battleships and destroyers, but the freighters we explored were filled to the brim with ammunition, heavy artillery, torpedoes, hemispherical beach-type mines, tanks, bulldozers, trucks, mortar rounds, cordite and the ubiquitous sake bottles. On Peleliu, I saw sake bottles recycled into land mines – Molotov cocktails with nitrate embedded in concrete blocks with cord detonators. We explored many caves, including the 1,000-man cave with numerous passages, mortar rounds, land mines and fuses. One of the digital videotapes shows a bat flying right at us while Tangie held my HID dive light to illuminate the cave.
| | |
| --- | --- |
| | |
| Entering the thousand-man cave. (Photo by Tangie Hesus) | Mortar rounds in thousand-man cave. (Photo © 2004 Patrick Finelli) |
Although many of my fellow scuba divers were fascinated with exploring the wrecks in Truk Lagoon including one destroyer, a submarine and a Betty Bomber, all I could imagine is the additional lethal weaponry our forces might have faced as they moved north through the islands towards Japan.
Peleliu, Saipan, Iwo Jima and Okinawa were rugged battles in WWII, but if the ordnance and supplies had made it through, it may have been even more detrimental to the allies' success. I have to salute the Navy for what they accomplished at Truk Lagoon.
One freighter, the Fujikawa, had a plaque just forward of the superstructure in tribute to Kimiuo Aisek, a Chuukese eyewitness to the attack. Known as the greatest diver in the Pacific during his lifetime, he remembered where the ships went down relative to the atolls. He helped locate them before side scan sonar, and thus began the Truk Lagoon diving industry.
It was unlike any diving I had ever done since most wrecks in my part of the world were sunk as dive sites, or are much older like the Spanish galleons. For the most part it was a somber and moving experience, and my enjoyment was tempered with the knowledge of events and battles of WWII, but it was an experience I will never forget. The deepest dive was the San Francisco Maru at 170 feet. It was a decompression dive. I could go into more detail about the diving and technology, but primarily I want to point out the effectiveness of the U.S. Navy air strike as each wreck had huge torpedo holes, bombed-out holds or entire stern sections crumpled into debris. It must have been a ferocious attack, with much more force than was used against the U.S. at Pearl Harbor. The juxtaposition of ceramic bowls, mess kits and intact bottles in close proximity to deformed steel beams and twisted metal was enigmatic, like the Titanic only with machines of war.
After Chuuk I went on to Yap where it rained the entire time I was there. At breakfast in the Mnuw one morning I interviewed a woman from Ulithi who found a USNR dog tag in her taro patch on Mog-mog. It must have belonged to a Seabee (CB), and that leads to another compliment for the U. S. Navy, as they were instrumental in restoring airfields and infrastructure on Yap, Ulithi and particularly on Peleliu.
I showed Cathy from Mog-mog my father's USMC dog tag and told him he was on Yap and blew up a big gun protecting the harbor while sanitizing the island. She told me that her own father was forced to be a spotter for the Japanese, and how he fell from a coconut palm on the same hill when an allied plane flew low above his head. He bears the scar to this day.
My father's dog tag elicited many smiles and handshakes along the way, from locals and fellow travelers. I met up twice with a group of veterans traveling with Military Historical Tours – supported by the USMC. I spoke with one fellow in the Honolulu airport while switching planes for Guam. He was headed for the memorial service on Iwo Jima and he showed me his brass dog tags with his fingerprints on the back.
Later, I met part of the same Military Historical Tours group in Palau. Tangie Hesus had just returned from Peleliu with them and I was invited to have dinner at a superb Indian restaurant in Koror, The Taj. The Minister of State attended along with another government official. I resisted the temptation to call him "Colin Palau."
Tangie was a gracious companion as he cancelled other requests for tours and accompanied me without any other travelers down to Peleliu. He was the best battlefield guide, driver, translator and transportation coordinator you could imagine. We went to Peleliu by boat driven by Godwin of Peleliu Divers southwest to the Storyboard resort through the unfathomable beauty of Palau's Rock Islands.
| | |
| --- | --- |
| | |
| Rock Islands on boat to Peleliu from Malakal (above and below). (Photos © 2004 Patrick Finelli) | |
I had seen Peleliu earlier in the week while diving Ngedebus Wall and the Blue Corner, but nothing prepared me for the shock of the topographic and geologic formations (sheer and treacherous limestone cliffs in the Umurbrogol), rugged terrain littered with caves, and the hard corals of White Beach and The Point. The Orange Beaches are sandy. During the invasion, the tracked LVTs were able to climb over fringing reef onto the shelf to approach the shore, but at least 14-15 were knocked out by mortar fire. Many of the LCMs, capable of carrying a squad or platoon, had to stop at the edge of the reef where the assault troops disembarked and walked the 200 yards from to the beach until the Seabees (CB) made pontoons of multiple steel cells that could be two or more cells wide and of varying lengths. The pontoons were carried on the sides of the LST's and then dropped and motored over the shallow reefs to be put in position. They also used them as barges with mobile cranes and/or large outboard motors. Pontoons at Peleliu were used as causeways still in place as part of the structure of the boat basin at the south end of Orange Beach.
The defensive pillboxes, foxholes and gun emplacements are still there. We found spent shells and bullets everywhere. Captain Hunt must have drawn the toughest invasion assignment since White Beach is the most difficult with nowhere to dig due to the hard coral and strongly reinforced machine guns, mortars and artillery covering the beach with enfilading fire. The pictures below show the landing beaches, with a wide expanse between the fringing reef and the shore. The water on the reef is shallow even at high tide. The bunkers with machine guns backed by mortars in foxholes had an unobstructed view of the beach. The Marines were caught in the enfilading crossfire and pressed on through force of will through virtually impregnable defenses. It was not a walk over, it was rough and the battle of attrition hinged in the balance. The courage of those troops asked to do the impossible against long odds is nearly incomprehensible. The beaches corals and rocky shores were dangerous on a spring day in 2004. It is unimaginable to conceive of what it was like in 1944. I was emotionally overwhelmed when I looked at the plaque Tangie had installed dedicated to Captain Hunt. It was a reminder of the tremendous sacrifice made by "K" Company, 3rd Btn, 1st Marines.
| | | | |
| --- | --- | --- | --- |
| | | | |
| White Beach #1 and The Point, looking NW. (Photo © 2004 Patrick Finelli)GPS: N 07° 00.049′; E 134° 13.312′ | White Beach from The Point, looking SE. (Photo © 2004 Patrick Finelli) | The Pillbox at The Point. (Photo © 2004 Patrick Finelli) | Field of Fire from the Pillbox at The Point, looking SE. (Photo © 2004 Patrick Finelli) |
| | | | |
| Pillbox at White Beach. (Photo © 2004 Patrick Finelli) | Sherman Tank Tracks. (Photo © 2004 Patrick Finelli)GPS: N 07° 00.358′; E 134° 13.364′ | Beach, 1944. (Photo Courtesy Gabe Ineichen) | D-Day +2, 1944. (Photo Courtesy Gabe Ineichen) |
Tangie and I climbed Pope Hill, named by the Governor of Palau after Everett Pope, who was awarded the Medal of Honor for taking the Hill. It had been known as Hill 100 or Walt's Ridge, but my GPS reading indicated the elevation is actually 183′. I took a picture of Tangie with Pope's MOH Citation Folio at the summit and sent a copy to Everett after contacting him when I returned. The hill was partially quarried, and he joked that they would probably flatten it, but I reassured him that there was a proclamation to stop mining his hill.
| | | |
| --- | --- | --- |
| | | |
| Pope Hill looking up from quarry in the Horseshoe. (Photo © 2004 Patrick Finelli)GPS: N 07° 00.726′; E 134° 14.274′ | Tangie Hesus climbing Pope Hill, March 20. (Photo © 2004 Patrick Finelli) | Tangie Hesus holding Everett Pope's Medal of Honor Citation and .30-caliber American shell at summit.GPS: N 07° 00.707′; E 134° 14.310′ Elevation: 183′ (Photo © 2004 Patrick Finelli) |
Tangie and I climbed several peaks in the Umurbrogol and the Five Sisters; saw Death Valley, the China Wall, the Five Brothers, explored many caves and The Horseshoe where there are many rounds and spent shells on the ground. We found a .50-caliber Japanese machine gun bullet and a .30-caliber American at the top of Pope Hill. Tangie found an exploded mortar fuse in The Horseshoe at the foot of the hill, seen here in two views:
Tangie Hesus holding exploded mortar fuse. (Photos © 2004 Patrick Finelli)
We found debris from an Avenger. Phil Orr said he thought that only Corsairs were used, but Tangie insisted this was an Avenger and JPAC knows about it. Here are five photos from the Avenger wreck on Pope Hill:
Propeller (l) and engine (r). (Photos © 2004 Patrick Finelli)
Proximity of propeller to engine (l) and close-up of engine (r). (Photos © 2004 Patrick Finelli)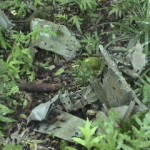 Avenger debris at a lower elevation on Pope Hill. (Photos © 2004 Patrick Finelli)
On Hill 300 (GPS: N 07° 00.689′; E 134° 14.160′) we found live grenades, including pineapple and rifle-launched type. Elsewhere in the Umurbrogol we found mortar rounds, gun emplacements and countless caves. At one point my trekking staff hit metal and I first thought it might have been ordnance but thankfully it turned out to be a mortar support.
| | | |
| --- | --- | --- |
| | | |
| Umurbrogol Mtn. Five Sisters. (Photo © 2004 Patrick Finelli)GPS: N 07° 00.732′; E 134° 14.132′ | Umurbrogol, 1944. (Photo Courtesy Gabe Ineichen) | Bloody Nose Ridge, 1944. (Photo Courtesy Gabe Ineichen) |
Other notable features, buildings and vehicles are shown below:


Radar Hill. (Photo © 2004 Patrick Finelli)
Japanese Airfield Administration Building. (Photo © 2004 Patrick Finelli)
Administration Building (center left), 1944. (Photo Courtesy Gabe Ineichen)
Japanese Power Plant, 2004. (Photo © 2004 Patrick Finelli)
Japanese Power Plant (left), 1944. (Photo Courtesy Gabe Ineichen)
The Japanese school building. (Photo © 2004 Patrick Finelli)
Captured Japanese tank, 1944. (Photo Courtesy Gabe Ineichen)
Japanese Type 95 HA-Go light tank. (Photo © 2004 Patrick Finelli)
Japanese tank, 1944. (Photo Courtesy Gabe Ineichen)
Japanese Type 95 HA-Go light tank. (Photo © 2004 Patrick Finelli)
LVT(A) -1. (Photo by Tangie Hesus)GPS: N 07° 00.447′; E 134° 14.057′
Opposite side of the LVT(A)-1. (Photo © 2004 Patrick Finelli)GPS: N 07° 00.447′; E 134° 14.057′
LVT-4. (Photo © 2004 Patrick Finelli)
LVT(A)-4. (Photo © 2004 Patrick Finelli)
American Amphtracks, LVTs, 1944. (Photo Courtesy Gabe Ineichen)
The Seabees deserve a lot of credit for rebuilding the infrastructure of the islands I visited. On Peleliu, they built harbors, repaired the airport (it looks about the same now as Tangie and I were the only passengers on a light plane flying back to Koror), and essentially created an infrastructure for the island including roads, electricity and a water-pumping station.
Very few of the roads have street signs and when I said we should start a program for signage, Tangie remarked that the locals would throw them into a swamp. However, I was greeted with betel-nut smiles and moving stories of displacement and return thanks to the U.S. Armed Forces. Tangie's uncle told me they were forced to leave Peleliu for Babeldoap in March 1944. At the time he was an infant only two years old.
I'm still having a tough time with the battlefield aspect of my research trip. I cannot visualize or understand how the Marines won ground, except by sheer determination and willingness to die for an incremental advance. Add in 115-degree heat with no cover, against a fanatical, highly trained Manchurian-experienced veteran defense force, reinforced weapons and artillery, and no one can envision that those combat Marines crossed the 200 yards of shallow water, sand and hard corals and established a beachhead. No wonder the cost was beyond comprehension. Peleliu is still extremely dangerous, but it looks nice from the air and you can find tranquil lagoons. The juxtaposition of memory, history and the present state of the island in my mind creates such strong imagery, yet it is beyond my comprehension to try to understand how the battle of Peleliu was won. If the Japanese had any Air or Navy, or if those supply ships from Chuuk had made it in February 1944 with more tanks, mines and ammunition, it might have been a different story. I'm still grappling with history, and how it is written.
I left my father's dog tag (aluminum) with Tangie for his Museum and have sent him an engraved plate for mounting on a designed storyboard for display. The museum is a former Blockhouse/HQ building with serious bomb damage from battleship artillery and hits from rifle and machine gun (MG) fire. This is the blockhouse that Chesty Puller vehemently complained to the Navy about because it was not touched by Naval gun fire (NGF) on or before D-day. They have placed glass over the big holes to preserve and serve as a reminder of the battle.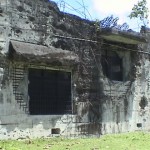 Peleliu Museum (former blockhouse and HQ building). (Photo © 2004 Patrick Finelli)
One point that I need to double-check is that the vets on the tour group told me that next year is the last one that tourists will be permitted to visit Iwo Jima because of the build-up of a Japanese naval base. There was no official word about closing access to Iwo Jima, it was just an educated guess by one of the veterans. The treaty allows access to veterans and unfortunately they are getting scarce. I cannot believe the iconic memorial on Mt. Suribachi will soon be off-limits. I've written an e-mail of concern about this to Senator John McCain since he is chair of the Veteran's Affairs committee in Congress. Tangie asked me to sign the inside cover of his book published by the First Marine Division, the definitive account of the battle. Senator John McCain had been to Peleliu recently and I respectfully signed under his name.
There is much more to report, but this brief narrative may serve as a beginning. As one veteran said who went to the Iwo Jima commemoration, "I can tell you a lot about weapons and strategies, but you will never understand combat unless you have been there." This is the same response I heard from my father when I interviewed him about his experiences.
Instead, this story comes from a son's eyes, looking back into the past and across oceans to try to come to grips with those who served their country and wanted nothing more than to "do their duty."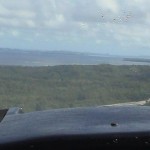 Flying back from Peleliu airfield over the Umurbrogol and Beaches, heading for Ngedebus and Koror over the Rock Islands. (Photo © 2004 Patrick Finelli)
It was a privilege to have Tangie along without the distractions of his regular tour groups. He devoted all of his time to me and slept on a futon on my cottage floor at the Storyboard Resort. When the day turned into late afternoon and the sun dropped slowly in the western sky, we would leave the Storyboard Resort and drive to the east side beaches, ending up at Honeymoon Beach (aka Purple Beach) and then the Peace Park to the north. One day Tangie and I invited two divers, Cameron and Ashlie, along with Tangie's cousin Sisca Vogt and her husband John to join us for the fresh seabreeze and a relaxing end to the day. Sisca's maiden name was Remengesau and she is the younger sister of President Tommy Remengesau.
The picture below was taken as we watched a turtle bobbing in the surf. It was strange for me to realize we were at a place where the Pacific Ocean was on the east and the Philippine Sea to the west. In the picture Tangie is wearing the Tampa Bay Buccaneer game-day jersey with his name on the back that I gave him along with a pair of Reeboks presented as a gift from my parents.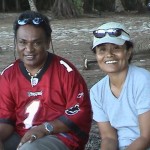 Tangie and Sisca at Honeymoon Beach. (Photo © 2004 Patrick Finelli)