Visitor's Log
USMC WWII Combat at Peleliu
August – September 1944
Sergeant Patrick L. Finelli, USMC
Combat veteran
UDT-6 pre-invasion beach recon (in the water)
3rd Bn, 1st Marines, "K" (King) Co (at the front)
Visits & Contributions
Thank you for visiting our pages. Below you will find excerpts from eyewitnesses, descendants, relatives, friends and others about their father, uncle, grandfather or someone they know who served in the deadly battle of Peleliu, or the other Pacific islands of World War II, including Yap, Ulithi, Guam, the Bonin Islands and Chichi Jima.
You may contact us directly if you wish to add, edit or remove an excerpt. (peleliu@pfweb.com). We have eliminated e-mail addresses to protect the privacy of those making these personal comments, but we will put you in touch with others upon request if information is available. The most recent are listed at the top:
==================================================================================================
My great cousin Martin L Heim Born March 11 1920 was killed in action by a Jap sniper on Friday, October 13, 1944 he was only 24  there is an article about him.  If anyone knows anything about him or even a picture anything would be much appreciated.  Attached is the article about him.  And his grave site in Pittsburgh PA.  Thank you.  RIP To all the fallen.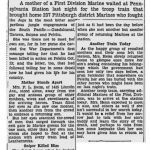 Reuben Acevez, Pittsburgh, PA, May 19, 2019
==================================================================================================
I know that it is a long shot but I am still searching for info on my uncle  Cpl. Patrick(patsy) F. Crisafulli HS 3/5/1. He was wounded on Sept 20, 1944 transferred to the USS Ormsby where he died that day and was buried at sea. Anybody who has info or photos it would be appreciated.Thank you for this site, we should never forget.
Frank Crisafulli, Attleboro, MA, December 27, 2018
==================================================================================================
My father was Harry Gudger Buckner from Asheville, NC and he fought and was injured in the Battle of Peleliu, I am told. I only was told very few things by him regarding this and he died when I was 17 years old from lung cancer due partially to metal still in his chest from the battle,. He had schrapnal in his legs and chest and was in military rehab in New Caledonia and then further rehab and discharge from Military Hospital in Butner, NC. He would not talk about his experience very much.
How can I find out more about him and what he did, etc in this battle and his total enlistment in the military during WWII. He only had one semester to go to graduate from NC State University major in Forestry but was drafted into the Infantry and he had to go serve. I want to find more about his service and wounds in the service. How can I do that?
William T. Buckner (Son), Raleigh, NC, December 11, 2018
==================================================================================================
I have pictures of my father in law on the island of Peleliu with some of his buddies plus I also have a list of names of some that were awarded I would love to post..My father in law was only 17 when enlisted his mom & dad had to sign for him to enlist..On Peleliu he drove a truck or like ambulance to pick up the wounded..he was a very brave man but was not able to speak of the events on the Island..when we would ask him his reply was…YOU DONT WANT TO KNOW..Thanks again for remembering these brave men and look forward to your answer..
Deborah Holman (Daughter), June 6, 2018
==================================================================================================
My Father Ronald Raymond Tollenaar (Ronnie), was with "E' Medical Company, First Medical Battalion Peleliu Island and served as an "Aid Man," "Medic" with the Second Battalion, Seventh Regiment, Sept, 18,1944 – September 21 1944, Front Line and October 4th – October 18th 1944 Second Battalion, Fifth Regiment Front Line. Would you have any information regarding others that might have information. My Father passed away in 2007 and I am gathering information for a Memory Book. I have received information from the National Archives but would like any information from others. He was also in the following locations: Neumea, New Caledonia; Oro Bay, New Guinea; Cape Gloucester, New Britain; Pavuvu Pensular Russel Group; Palau Islands. Thank you.
David Tollenaar (Son), Bonsall CA, April 19, 2017
==================================================================================================
Impressive website.  Glad to see we still have folks that feel it is important that we DON'T FORGET those that served in the defense of our country and the entire free world. Thank you for that. My father, Corporal Arthur J. La Plant, known by many as "Art" or "AJ" served with the Corps at Peleliu, Okinawa and in China as a "China Marine." He was in the 1st Marine division. He was from East Hartford, Connecticut and joined the Marines at the age of 27. He had been a sergeant in the National Guard prior to his enlistment. I am waiting for his records. I do not know his regiment, battalion and company I had the pleasure to visit my father as a 4 yr. old with my mother in 1944 at Camp LeJune. His company commander got him a room in the BOQ. I think we stayed for 2 days. .I have vivid memories of standing next to the parade ground or a street with my dad watching the Marines march by. I also remember sitting on the wide steps of the barracks and watching the sky light up from the explosions of artillery at night. I  remember the day when my dad returned. He walked through our front door with a fur coat and camera hanging from his arms. My grandmother, two sisters and my Mom were there. That was a great day.  Thanks for your time.
Jack La Plante, US Army Recon,  East Hartford, Connecticut, January 23, 2017
==================================================================================================
Thank you so much for letting me know. How can I get in touch with him? I would love some new information. If you would like you can give him my email and he can contact me that way if he would like. My family name is Cody, and my married name is Atkinson. Thanks again for contacting me.
Cami Atkinson, December 5, 2016
==================================================================================================
On Sept 9 2013 Cami posted a request for information on Dolye Smith.Ihave information on Doyle M Smith who kia 9-29-44 on Ngesebus island Peleliu. I havehis service file as I researched another marine kia on the same day.I would like togive this information to her.
Mark, December 3, 2016
==================================================================================================
Hello, my name is Aja my grandfather's name was Burton DuCote. He went by the nickname Red. My Uncle's name is Gregory DuCote. In July of 2011 Mary Reardon made an entry stating that she has a bunch of pictures labeled Red. I would like to reach her in some anyway possible. I know it's been several years since her entry. My Uncle has recently passed. I would give anything to see pictures of my grandfather. Any help that you can provide would be greatly appreciated.
Aja Guilbeaux
Note: I put Gregory and Mary in touch with each other in 2011. Here is her
follow-up reply to me:
Sent: Wednesday, July 20, 2011 11:51 PM
Dear Pat,
I have received a call from Greg DuCote, and we have already had a good
cry. I am grateful that you so diligently, delicately, and carefully
tend to your brother's and sister's affairs of their hearts. Certainly,
there awaits a spot in Heaven for Patrick Finelli.
I look forward to keeping in touch with your website and Gregory. I just
finished scanning the pictures and documents and I found "Red's" last name
in the process. It is not the "Red" we hoped for. This is Red Irving.
It was a long-shot.
God Bless,
Mary Reardon
==================================================================================================
My name is Eric Sims and my Great Uncle served on Peleliu. I am now researching the battle. I would like to be put in contact with veterans of the battle and /or papers dealings with it to help me. Thank you.
Eric Sims, Tulsa, Oklahoma, May 4, 2016.
==================================================================================================
Hello, I just read your article on Peleliu. I am a retired police officer from Alaska. I first came to Palau in 2002. I had an hour long tour between dives on Peleliu and fell in head first over the history and interest of the WWII invasion here. I have been back several times and it was a dream that when I retired, I could come here and stay for several months and do research. I was here for a while last January when I retired and then came back again. I have hiked all over the island of Peleliu and gone into numerous caves few have gone in to. I am going back next week to hike in to Hill 140, 120, and Ridge 3. If you would like any photographs of the island or any particular area, please let me know. I'd be more than honored to share them with you… My heart fell for what happened here and now I have been here several times. I have a bike I keep in Peleliu and I ride all over then hike in to the jungle. It still amazes me the amount of stuff I still find here including bones. Found dozens of grenades, mortars, rifles, machine guns last week. I know two people who have found canteens with names on them. They have tracked down the family and gave it back to them. That is my goal. Love to find that and return it to a family member if the soldier is gone.  I'd like to track down Arthur Jackson in Idaho, who was a CMH winner here when I get back. He still appears to be in good health for 90+. Check out my pictures on Facebook.  https://www.facebook.com/dan.reeder.92?fref=ts
 Dan Reeder, Anchorage, Alaska, February 23, 2016
==================================================================================================
My Dad Robert L. Brewer was a Navy Corpsman who served on Naval Base Hospital 20, Peleliu, in late 1944-45. He later finished his service on Naval Base Hospital 18, Guam. He died in 2005 at 80. I am looking for pictures of Naval Base 20 on Guam or other corpsman there from September 1944 to March 1945. Thank you.
Jeff Brewer, Wichita, Kansas, October 27, 2015
==================================================================================================
I have been trying to locate any known veterans who fought in the battle of Peleliu. Here is my grandfather, Harry Vincent McNeill, fondly known as "Mac" who enlisted in the US Navy at 41 years old. He was much older than the young guys he spent 3 years with fighting the war. He left behind my grandmother and his only child (my mother) to support the war effort. He fought bravely in the South Pacific making many of the beach heads fighting the Japanese. He drove the landing crafts (unit #32) packed with young marines to the beaches where they would jump off to fight an uphill battle….many of whom wouldn't make it even to the beach. My grandfather told us incredible horror stories of the cruel death he witnessed during these battles. ….. stories that stayed with him till his death in 1979. Just so proud of him and his patriotism and love for America! If anyone recognizes my grandfather, please write back. I would also appreciate any information about the unit he was part of ( #32) and the ships associated with that unit.
Linda Marroccoli, Jersey City, New Jersey, October 12, 2015
=================================================================================================
I have been trying to find a website to post or someone that might want old photos from when my father in-law was stationed on the island of Chichi Jima in 1944 – 1946. My wife's Dad was David Close of the 1st Battalion 3rd Marines. There are some names on the back of them. Thank you for taking an interest in them.
Steve Howe, May 29, 2015
Here is the link to his pictures: David Close, Chichi Jima, 1944-46
==================================================================================================
Thanks again. Peleliu is a long way from home, I tried to get there coming home from Nam in 1970 , just could not swing it. On the great Bucket list. My friend and a former Marine brought, or I should say snuggled back a rusty M-1 Carbine still loaded with a 15 round mag still embedded in the rifle from Peleliu in 1975 or 76, he was able to remove the barrel from the stock and slip it in a bag and actually Mailed it home from Japan. Don't know how you feel about taking artifacts from a battlefield, but as a former Marine, a certain entitlement prevailed in is mind as a Marine, and to him, as he said, Better me then some jerk who would careless about it and sell it for a few bucks. When you hold this is your hands, you feel it, The Marine who carried this rifle off a ship would never abandon his rifle unless he fell in harms way, you know this when you hold it. Just for your info, the rifle was a Quality H.M.C (Hardware) Serial Number 1646156 can still be read very clearly. I got to keep it at my house a few years and it a very powerful symbol to behold.Thanks again for your help.
SGT L.A.Hansen (retired), March 1, 2015
==================================================================================================
My father was too young for WWII, and his father in the army. I directly know of an uncle in the air corps and another on Peleliu, but they were not Orrs. I'll look through my grandfather's brothers and cousins, but since he was born in 1898 and fought in WWI and was stateside in WWII, the most probables are distant cousins. Keep in mind too we used WWII issue items well into the 1960s
Phil Orr, March 3, 2015
==================================================================================================
Did Phil Orr have any relations that served with the USMC in WWII.
Reason for the inquiry , I have in a collection a WWII USMC Canteen cover with the last name of Orr on the back of it, and if he did have family who served at that time, even though the odds of it being his are very long, he could maybe tell me if the hand painted last name was his, if he had any other items with the painted name on it to compare. MARINES OF wwii like my father had personal items of his that he stamped or painter on. Who knows!! :-
SGT L.A.Hansen (retired), March 1, 2015
==================================================================================================
While researching the WWII Marine artist David Driesbach, I came across a report on your web site from his grandaughter, Erin Driesbach.  I have an amusing original cartoon sketch that he did while in the south pacific, and thought that she might like to have it.  Could you give me her email address so that I may contact her?
Tom Wolfrom, September 2, 2014
==================================================================================================
My name's Monica Kent and I'm a mentor at the local community center. The kids that I mentor wanted me to email you and let you know that they think your page, on resources for military families, is very helpful!http://pfweb.com/plf-usmc/resources  They are all mostly from the local military base and we have done a little research on it. As a thank you they wanted me to reach out to you and give you another great resource they have been using and have found helpful http://www.thepromove.com/Moving-Resource-for-Veterans-and-Military-Families.html.  This group of kids really are wonderful and have come a long way in learning, they were hoping you would add the above link to your page, and because of their hard work, I told them they could have a surprise pizza party this Friday 😉
Monica Kent, June 23, 2014
==================================================================================================
I noticed David Yudikaitis posted seeking the address of Lt K Bald's family. Do you know if he found them or you could put me in touch with him?  I found another drawing of the Lt. in my grandfather's storage– and it's beautiful.  (June 23, 2014)
Since my email, I learned that the piece was actually by Lt. K Bald of my grandfather, David F. Driesbach — apparently Bald drew a wide number of drawings of others on Peleliu (so possible your piece is also by him rather than of him).  I have a link to the picture we have here: http://imgur.com/a/DNUSO#GzAVcnS.
For what it's worth, we're working on donating my grandfather's drawings and watercolors from the Pacific (the majority are here: http://imgur.com/a/DNUSO.  I have found a few more and realized many were double sided– the only one not by my grandfather is Bald's) to a WWII related museum (with help from the director of a museum dedicated to the First Division near his retirement home).  It should be noted that the titles of the men on the page with four portraits is incorrect, those were his friends and he gave them higher titles in his work to "make them feel good."
My grandfather, at 91, still has the vast majority of his faculties and spends 3 mornings a week in an art studio at the local community college and can give pretty clear explanations of his pictures from the Pacific… which the First Division museum director said could be invaluable.
Erin Driesbach, Chicago, IL, July 25, 2014
==================================================================================================
I am writing this letter in hopes that someone knew my 17year old cousin, US Marine, PFC, Edward Fred Borowski, Missing- In-Action, September 1944 and presumed Killed. I have some information that I found; his picture, newspaper articles, some letters he wrote home, etc. My Aunt (now deceased) tried to find out how he died through correspondence in the years following 1944-46 with the military, but I don't know what became of the inquiries or if she received an definitive answer. There has to be an account or a record of the tragic event. I am aware that many books have been written about the battle of Peleliu as one of the bloodiest battles in Marine Corps history, and this is where Edward was before he was MIA. We can only surmise what happened to him and why his body wasn't found, so we'd be truly grateful if anyone was with him that came forward with first-hand information that was documented or any survivor's from his unit? (K Company, 3rd Battalion, 1st Marines), or kindly advise where I can inquire on the details to find out more via military records. I recently read the following account of 1st Lt. Louis L. Longman, U.S. Army Air Forces, 433rd Fighter Squadron, 475th Fighter Group, 5th Air Force, was lost on April 16, 1944, in Papua New Guinea. He was accounted for November 1, 2013. He will be buried with full military honors in Clinton, Iowa, in the spring of 2014. After I read the article, I thought "After all these years, he is finally home!" And I only wish the same for so many of the missing.
Michele Kwatowski, Feeding Hills, MA, November 20, 2013
==================================================================================================
I really appreciate your site. Growing up, most kids father's had served in WWII and in the more well known campaigns. I remember the blank looks when I replied "Peleliu" to the question "Where was your Dad?". Thanks to Dr. Sledge and The Pacific, the battle has its place in history.
Several years ago, Dad and I were selling militaria at The Battle of the Bulge Commemoration. A former Marine approached Dad and began to talk to him about being a Marine. He mentioned that his uncle was in the Corps in WWII. Dad asked what was his name? The Marine responded, "He was in a small unit, you probably never heard of him" Dad asked "What was his name?" The man said "Nick Palowski." Dad looked at him and said, "His dog was named Satan." Both had been on Peleliu in the 5th War Dog Platoon.
Dad passed away on 9 July 2005. He has told me he wished to have Chips with him. The cemetery did allow this, so we exhumed the dust and took the marker with us. Today Dad and Chips are together as they were on 15 September 1944. I miss him and the inter-service rivalry. I would appreciate hearing from any veteran of the 5th War Dog Platoon or their kin. They may remember: Thomas B. Price and Chips (Dobermann).
Ironic, today is 15 September and I paused and remembered those who served. Dad saved a lot of things: I am now a collector of the Palau Campaign. He never talked much about it until later. In fact, he worked on the War Dog Reunions and even getting the Combat Action Ribbon awarded to WWII Marines. He retired from the Maryland Army National Guard in 1989, the last enlisted WWII veteran. I have a lot of Dad "sea stories."
Tom Price, Jr., Hedgesville, WV, September 13-15, 2013
==================================================================================================
I am looking for ANY information regarding my great great uncle. He was a USMC Corporal by the name of Doyle M. Smith. As far as I know he was with "L" Company 3rd Battalion, 1st Division, 5th Marines. He was a Purple Heart recipient and he was killed in action on September 28 or 29 1944. That is all any of my family really knows. We have been researching him for years and can barely find his name. He was very young and had no wife or children. ANY information or links to helpful sites would be greatly appreciated. Thanks!
Cami (great-great neice), South Carolina, August 18, 2013
==================================================================================================
My great uncle Frank (Francis) Marino, originally from Barnesboro, PA, was in Peleliu and other places in the South Pacific. He doesn't talk much about action there. Did anyone here know him?
Dena Roberts (great-niece), Barnesboro, PA, May 27, 2013
==================================================================================================
Joseph W Barden passed away 5/2/13 at 93. He was a Sergeant in the Marine Corps Pacific Theater WWII. He was wounded in combat in the battle of Peleliu, awarded the Purple Heart and Presidential Citations. Please remember him and all the others we owe.
David Yudikaitis, Binghampton, NY, May 5, 2013
==================================================================================================
My father, a former WWII POW, recently passed away. I came across a sketch that Lt K. Bald made on 9/22/44 in Peleliu. On the back of the sketch Lt. Bald asks for the sketch to be forwarded to Mrs. Marie Bald 10 North 10th Ave Mt. Vernon, VA, but no one by that name is at that address. I would like to return to the family.
Tony Katsarelis, Richmond, VA, March 28, 2013
==================================================================================================
My father was with 1st Marine Division. He saw action on Peleliu, Okinawa and China. Discharged in early 1946. Passed away on September 11, 2005. He always said he would like to know or hear from his buddies.
CPL Edward Sinclair, Retired, 1st Marine Division HQ 7th Marines, Paramus, New Jersey March 3, 2013
==================================================================================================
My brother, John R. Ward 035317-PT-12/44 USMCR-A was on Peleliu. He was a 1st Lieutenant by the end of the war. Something I always admired about him was how he dealt with his feelings about the Japanese. He and his wife became gourmet cooks and his favorite cuisine was Japanese. He also had a very good friend who was Japanese American. The down side of his experiences was, I think, that he saw and experienced things that haunted him the rest of his life. Now we recognize PTSD, then men just did their duty and suffered mentally the rest of their lives. He died a number of years ago but I remember as a little girl of 5 and 6 listening to the radio news about the war with my folks. I was extremely proud of my big brother and his service to our country.
Dr. Jan Buehler Billings, MT January 3, 2013
==================================================================================================
I am a granddaughter with a photo and very little else to go on. My grandfather Walter Wade Hyler was fatally wounded at Peleliu and buried at sea in October of 1944.  I wonder if anybody still alive remembers him, what he was like, etc. I have his last letter home and I inherited his eyes, his spirit, his smile… Please pass on any info if you have it. I'd also like to know about the chaplains who served in that hell hole; it is because of a chaplain's letter to my great aunt that I am studying to become a chaplain myself. I do not know which division he was with. He was originally from Ohio (Akron/Canton).
Kerena Hyler, Salem, OR October 9, 2012
================================================================================================
My father, honorably discharged from the USMCR as Sgt. Edward P. Reardon, fought in battles as follows: 7 Aug 42 to 9 Dec 42 – Guadalcanal; 1 Jan 44 to 24 Apr 44 – Cape Gloucester, New Britain; 15 Sep 44 to 30 Sep 44 – Peleliu. Dad passed on the 35th anniversary of Guadalcanal in a Veteran's Hospital in Oakland, PA (7 Aug 1977). He was originally taken to a private hospital (because he had private insurance) but demanded to be transferred to the Veteran's Hospital. About 3 months before his passing, he kept telling me to go to the cellar and get the pictures. Regrettably, I blew him off many times. When I finally retrieved his precious pictures I did not have the common decency to speak to him about the pictures. I just took them home in a shoe box. Just like all the others' accounts, my Dad never muttered a word about the war. He held it all inside. He did gravitate to the Castle Shannon Vets Bar for drinking until he was barred from entering. He was devastated. In those days, PTSD Syndrome was not a diagnosis. After visiting this site, I wish to reference the entry of 12 Nov 2009 of Gregory J. DuCote, whose father was Burton Joseph DeCote. I have many pictures captioned "Red". Years ago I thought these pictures were taken at Henderson Field, but after putting pieces together I realize they must have been taken at Parris Island.
I have no knowledge of Red's last name and this is a long shot. But, it does appear that Red was my Dad's best friend at the time. I don't know how this piece of paper survived the battles…with an official Marine Corps Seal "US Marine Corps Co. 11th Mar 1st Div. FMF". It goes: "To all the travelers of the seven seas, know ye that PFC Edward P. Reardon, USMC has been duly admitted to the realm of King Neptune having taken the vows of the Pelagic Order of the Deep, and having been fairly initiated while wet when dry and dry when wet." A navy man recently told me that this was a typical ceremony of those crossing the meridian; a ceremony and, reference to Davy Jones. My Dad's paper is dated July 1, 1942 on board the U.S.S. John Ericssen. Near as I can figure, Dad departed San Francisco in May 1942 en route to Guadalcanal. I've tried to trace his steps. There was a rumor that his legs had to be amputated and a letter to that effect was sent to his Mother. He did marry my Mother on 20 April, 1945 in Pittsburgh and he had both of his legs! I never saw my Dad's legs. He wore pants throughout his life. I think he had severe shrapnel wounds that he kept hidden. I am a Registered Nurse. Although not part of the acceptable uniform, I wear a hand-made patriotic uniform on 7 Aug and 15 Sep in honor of my Father and the Battles of Guadalcanal and Peleliu. The kids today have no clue…including my own.
Mary Reardon, Oakland, PA July 20, 2011
Just today, I received a copy of Dr. Finelli's book Worlds Away. Thumbing through the book I found in one of the appendices an item of considerable interest to me. Appendix D has a Presidential Unit Citation to the 1st Marine Division (Reinforced) for their actions on Peleliu.
My father served under Chesty (Lewis B.) Puller in the First Marines during the invasion of Peleliu. My father is still living and I thought it would be wonderful to present him with a framed copy of the Presidential Citation as to this day he remains proud of his many years of service to the Corps. Do you have any idea as to where I might be able to acquire or purchase a full size replica of the Citation?Any assistance that you can lend will be greatly appreciated. Thank you.
Mike Hengel, Littleton, CO July 13, 2011
Please let me know if you might have any information on the Pelelieu USMC service of my uncle, John Kerr, Junior, who died in New Jersey on March 1, 2011. During his service on Pelelieu, John Kerr, Jr. was a 19 year old USMC Corporal or PFC and a former Yale University student who left Yale in 1943 or 1944 to join the Marine Corps. John Kerr, Jr. may have served with a USMC anti-aircraft or artillery unit during the battle for Peleliu. Thank you and Semper Fi !
Jack Hurley (former USMCR Corporal), Alexandria, VA, July 11, 2011
Harold V. Buker Jr. was in the 1st Marine Division, 5th War Dog Platoon. He enlisted in the Marines on November 1st,1943. He trained at Paris Island and Camp Lejeune. He shipped out of Bayonne, NJ and traveled through the Panama Canal. His dog, a Doberman, was named Toby. He was hit on Peleliu on October 1st, 1944 but was not shipped out immediately because he was so severely wounded. He was hit by a sniper while trying to pull a fellow Marine to safety. He finally arrived stateside in San Diego on Christmas Day, 1944. He was there for several months before being shipped to Sampson Navel Hospital in New York. He spent over a year in the hospital before being discharged. He has photos of the War Dog Platoon that he was in. He later married, had 4 children, was a police officer and also was the Manager of the Ralston Purina Pet Care Center in St. Louis, Missouri. Both sons were also in the Marine Corps. He raised dogs as a hobby, especially Dobermans and German Shepherds. He will be celebrating his birthday on July 10th and presently lives in New Hampshire. He would love to hear from anyone that was in the War Dog Platoon and you may contact him. He will be 86 on July 10, 2011.
Harold Buker, New Durham, NH, June 13, 2011
I am looking for any information I can find on my father's movements with the USMC during '41-45. I am not sure of anything except he came out of Parris Island at 17 yrs of age and ended up in the South Pacific. I do not know his division or any other info as he would not talk about this part of his life at all. My dad was Oscar Edwin Reece from Oxford, NC and his best friend (whom he met in the Marine Corp) was Sgt. Thomas Foster McCarthy. McCarthy was killed on May 9, 1945. I know that McCarthy was from Connecticut and is shown as having been with 8th 155mm Gun Battalion, FMF. and that Dad was close by him when he was killed. Can anyone please help me find more information? Hopefully someone knew these great men.
Kathi Reece Hall, April 20, 2011
I'm the grandson of Army tanker Charles Erazmus, lead tank, 1st Platoon, A Company of the 710th Tank Battalion. I'm trying to get in touch with Eric Mailander. Is there a way that you could forward my contact information on to him? If so, please give him the following contact info.
Seth Erazmus, January 7, 2011
Below is a picture taken on either Angaur or Peleliu before October 18th, 1944. Several men in the picture were KIA 10/18/44.
"Flying Home" as it sits today on Peleliu
Here is the response of Eric Mailander, the pre-eminent Peleliu battle researcher, who has visited the island of Peleliu many times:
I was the one who cracked this case regarding the missing Sherman and tracked down the former commander in 1996. I would love to talk with Erazmus's grandson. Thank you for asking.
I am attempting to find anyone who might have know my brother in law's father he would later become a Captain however is listed as: KEIM, Lewis M. Jr. – 1st Lt – H&S Co. Sixth Amphibian Tractor Bn. My father served in the Pacific in the Air Corp from 1940 to 1945. It is important we never forget or allow our nation to forget the sacrifices and bravery of these troops. My brother –in-law Robert Keim has a medals display and in the display Captain Lewis Keim is with the III Amphibious Corp USMC. Any suggestions you might have to put some of Captain Keim's history in the Pacific together would be greatly appreciated.
Gregg S. Heilmanm, December 29, 2010
Son of T/Sgt. Ray A. Heilman 11 TH F. A. 1937-40; Schofield Barracks 11 TH BGH 42 Sq.1940-45; Hickman 12/7/1941; AAC Armorer 911, P.U.C.1942
I just recently lost my father Sylvester E. Gautreaux, Jr. who was a Navy Medic. I believe he served on Peleliu and the thrust to Okinawa. How would I learn if in fact that's accurate? It's always been my understanding that he was attached to the Marines as a Medic. How would I verify this? Whom should I contact to pursue this? Thanks for any suggestions forthcoming in advance!
Mark E. Gautreaux, December 18, 2010
My father in law Doctor Robert Ryan served on Peleliu with B Co. 1st Med 1st Marines USMC. He was right in the middle of the fighting and patched up quite a few marines. Doctor Ryan passed a few years back and I have always wondered if there was anyone out there who remembered him from WWII?
Bruce Reynolds, Beaufort, SC, December 3, 2010
A sorrowful trip into my past! Tears rolled down my face as I recalled the day my mother, washing clothes with a wringer type washer in the middle of the kitchen, hurried to answer a knock on the door. It was our local pharmacist, the only person in town who had a telegram service. Mom was notified that her beloved brother, PFC Joseph Paul Luciak was killed in Peleliu. I was eleven at the time and too young to realize the profundity of our loss. I have made attempts to bring his remains back to the country he died for rather than in the American cemetery in Manila, a consoling spot especially since the oldest brother in his family of 8 siblings had the authority to have him buried there. The upshot was that the oldest brother, Leon Luciak, is now buried at Arlington Cemetery, along with two of his other brothers. If anyone remembers "Boney," please email.
Thank you for giving me the opportunity to honor my uncle as he should have been honored after his death on Peleleiu, Sept. 17, 1944. It was only 30 minutes ago that I learned he had been awarded the Silver Star for gallantry. My uncle's name and rank was PFC Joseph Paul Luciak, and he was from Pennsylvania. If you care to, perhaps you could lead me to some sites which may produce more information about his death battle, or maybe more. I feel blessed to have learned this at my advanced age. Thank you again.
Cathy Luciak Ferrick, Leechburg, PA, November 13, 2010
Here is the response of Eric Mailander:
Incredibly I am currently writing a story about your uncle's platoon and have heard a few former Marines and Peleliu survivors mention his name. He was a member of Captain Hunt's K Company, First Marines and died fighting in the tank trap inland of the beach with the 2nd Platoon. That unit of 54 Marines were annihilated on the beach and took 75% casualties on the first day alone. Your uncle was killed in the trap on the first day (Sept. 15th) and I have an official roster noting the details of his death. His body was apparently recovered on the 17th and that is the official date of his death although I know he was killed the first day. Today about a half dozen survivors of the platoon are still alive and I have accounts written by at least two of them that mention your uncle's name. I have a lot of information (mainly from official action reports and veteran accounts) with the details of his battle, along with the others in the 2nd platoon. Captain Hunt wrote a book Coral Comes High in 1946 that mentions the battle for the "Point" that K Company endured. The 2nd platoon was wiped out on the beach. I will forward your message to two survivors of the 2nd Platoon who escaped the death trap on Peleliu and remember your uncle. I asked Mel Hauge if it would be OK for you to contact him and he said no problem. He said that Joe was just getting over the berm of the tank trap when hit. That matches Wigginton's testimony of the same event. I'm sorry for you loss but know that your uncle died fighting as a hero. My goal is to write the story of the 2nd platoon to honor those who fought and died for our freedom.
My father, Joseph A. Berardinelli, died recently of a long illness. During his later years, we spent many hours discussing his service as a Navy corpsman attached to the 1st Marine Division, 1st Medical Battalion, E Company. See Discharge Documents, attached (confirming service with 1st Marine Division, 1st Medical Battalion, E Company from 1943-46). His most vivid memories were of the land crabs clawing him while in foxholes at night and the horrible stench. As a result, I have spent many hours researching the Peleliu campaign in particular since his most vivid, and horrific, memories were of Peleliu. I came across this website recently during my search for information on this campaign. My father's name is not listed on your directory and I would ask that his name be included, if possible. Please let me know what further information you would need to allow this. Also, I am very interested in contacting or reaching out to find any remaining survivors who might have served with my father and remember him. Also attached is a photo of my father taken in his 1st Marine Division uniform in the States upon his return on points after Peleliu. I never did record the names of his buddies shown in this photo although he did identify them to me. Any help in identifying any of these individuals would be greatly appreciated. The second attached photo, taken on Peleliu, shows my father with 3 buddies holding a Japanese flag and a Jap fan. My father is the one in the middle holding the fan. One of his buddies on Peleliu was known by the nickname of "4 and three quarters" because he lost the tip of his left ring finger during the landing on Peleliu although he returned to his unit. He is the one in the front row, third right holding up his left hand to show the missing digit of his left ring finger. Any help in identifying any of these individuals would also be greatly appreciated. If anyone has information about my Dad or the individuals in the photos I sent, please have them contact my Staff and I'll get in touch with them.
David J. Berardinelli, Santa Fe, New Mexico, October 6, 2010
My neighbor Amedeo Grassia was with 3rd P;t, L Co, 3/7, 1stMarDiv at Cape Gloucester, Peleliu and Okinawa. Photos of unit taken at Pavuvu prior to Peleliu are at Leatherneck.com under ACoLegal. Most of platoon was KIA during attack of May 9, '45 at Okinawa. His friend, Pvt Frank Mezzacapa of New York City, was KIA instantly by mortor round at Peleliu. PFC Grassia was wounded May 9, '45 and evaced from Okinawa. He wants Frank to be remembered as a good friend and Marine.
ST, October 2, 2010
I am hoping to find someone who might remember my dad. His name was Walter G. Dawes and he was from Johnston City, Illinois. He was in the 1st Marine Division, I Company, 3rd Battallion, 7th Marine Regiment. His first combat mission was the invasion of Peleliu, Sept. 15, 1944. He was a medic. He didn't say much about the war that I remember except that his best buddy died in his arms and unfortunately he passed away in 1971 when I was still a teenager. Please post something if you have any information about him.
Karen Dawes Bach, DeLand, FL, September 10, 2010
Our family is seeking information on our uncle John Chester Colbert, Jr. who served in the USMC during the 2nd World War. He was reported as MIA. On this Memorial Day as we reflect upon our service personnel in the armed forces, we wonder what really happened to our Uncle Johnny. It is our hope that somebody will be able to remember him. Below is all the information we have on him.We thank you sincerely for any and all information you maybe able to find for us.
Mrs. Frances Keller, 710 Beaver Street, Hollidaysburg, received the following telegram from the war department last Saturday: "Deepest regret to inform you report just received that your brother private John C. Colbert USMCR was killed in action on September 22, 1944 at Peleliu Island, Palau Islands in the performance of his duty and service of his country. Remains not recovered. To prevent possible aid to our enemies, do not disclose the name of his ship or station. Please accept my heartfelt sympathy. Signed A. A. Vandergrift, Lt. General U.S.M.C., Commandant Marine Corpss. Peliliu, Palau
Person's Full Name Service Number Service Name Service Rank Date of Loss
COLBERT, JOHN CHESTER 445518 USMC PVT 09/22/1944
Deborah Claar, Duncansville, PA, June 21, 2010
My father-in-law, Johnny Hackney, was a mortar man in E Company, 2nd Battalion, 1st Marines, at New Britain, Pelileu, and Okinawa, where he was awarded the Bronze Star. If anyone remembers him, please contact me. He died in 2008.
Rob Kerr, May 31, 2010
I am in need of your help. I am an old Marine on a quest for my brother in law and my best friend. He also is an old/older Marine. We are trying to find any information about his brother, an even older Marine, who served and was wounded in the battles of Guadalcanal and Peleliu and later served as a hard hat with the U.S. Navy after the war. While in the Marines he served with the 5th Marines weapon battalion and was also a machine gunner on a 1/2 track. He was one of three family members who served in the war. While serving with the USMC, his brother served with the 101st as a Tech Sgt in the Bulge, and his cousin also served with the 101st and was killed in the Bulge. The individual I am interested in is Frank W. (William ) Chaulk from Cambridge Massachusetts, 1923-1950. If any information is available, I ( and my brother in law ) would be eternally grateful. Please, if you can, help. Semper Fi. May their courage and sacrifices NEVER be forgotten, and may the loss of their youth and innocence be rewarded with eternal salvation.
Richard, May 24, 2010
I just finished reading your site. Your dad was an amazing Marine and obviously a good father. I have much respect for his combat service during WWII. I'm the father of an active duty Marine, who has served multiple combat tours in Iraq and Afghanistan. He has been taught and understands the proud history of the United States Marine Corps. Of course, your father is part of this legacy.
Tony Wiesen, May 7, 2010
Thank you for your efforts on behalf of the 1stMArDiv at Peleliu. My Dad, Lt Charles C. "Duke" Ellington was mortar platoon leader for K-3-5 in this battle. He died at 56 in 1958, Buried at Barrancas National in Pensacola. Sledge and other books, including the new accompaniment to the HBO miniseries " The Pacific" mention dad several times. My sister and I were honored, on behalf of dad, at a 1st MARDIV reunion with a picture of K co survivors, signed by those still with us. What a great gathering that reunion was, from WWII to Iraq, K-3-5 has a long and proud heritage. Any information and pictures on Dad would be appreciated. Like so many other survivors of this blood bath, Dad would not talk much about his experience.
Scott Ellington, Boca Raton, FL, April 21, 2010
You & I were in touch PRIOR TO my visiting Peleliu with my Dad back in 2005, a naval veteran who served in Peleliu & New Guinea. As you well know, going over there blind is difficult, and suggestions & guidance from people such as you made it much more enjoyable. Seeing the recent two episodes of the Pacific leave me feeling a strange combination of deep sadness for the sacrifices, deep appreciation for those who fought, a disillusionment at the lack of understanding and appreciation by generations that followed (obviously not all of us), and just a numbness at the mystery of why these wars happen. I expect the next episode will reflect your fathers experience most accurately, if my memory of our phone conversations serve me right. I do wish there was some way for me to learn the whereabouts of my Dad's crew from the LCT 177, but it is not available. Obviously, 1/2 of them are probably not still alive. In any event, I just wanted to offer you a belated "Thank You" for your help. Our trip will be one of the highlights of my life, and if I can, I will visit Peleliu again.
Bryan J. Mack, Mount Airy, MD, April 18, 2010
Due to the recent series on HBO, I recently pulled out of storage my Dad's memoirs pertaining to his service in the USMC. He was very active in the various Marine Corp associations until his death in 2000. He also was a frequent contributor to Bob Truitt's articles in the Houston Chronicle during the early 1990's pertaining to the 50th year anniversary of the Pacific battles. Based on his memoirs, it appears that he was one of the few Marines that actually landed on D-day both on Peleliu and Okinawa. I am contemplating assembling his notes, pictures, and quotes to me and putting them on the web. I thought I would give you an excerpt on some of his experiences. My dad, P.F.C. Warren Edwin Dalton, USMC-827-857, rifle expert, L Company, 3rd Battalion, 7th Marines, 1st Marine Division, sailed out of Parry Island in the Marshalls on the USS Sea Pike, dropped anchor about 5 miles off Babelthuap, Palau Islands, for a few days waiting to go into Peleliu. According to his memoirs, they waded ashore on the night of September 15, 1944. He would stated they were pinned down for almost a week near the airstrip. He said to me that after they took the airstrip a lone Jap Zero came in for a landing and the pilot got out either not knowing the Marines had taken over the airstrip or he had a death wish but when he got out of the airplane with a pistol at least several thousand Marines opened fire on that pilot. His memoirs also stated that after leaving Peleliu to go to Ulithi Atoll, they were caught in a 135 mph typhoon in which 3 destroyer escorts were sunk, resulting in the drowning of 790 sailors, the 13th larger marine disaster since 1850. My dad would later sail on USS Sam Fuller APA-7 and see engagement in Okinawa on April 1, 1945 near Naha. In 1987, he donated his service rifle and uniform to the Admiral Nimitz Museum in Fredericksburg, TX. He said to me that upon their return to the US they were not allowed to have their rifle but he decided to dismantle the rifle and store it in his gunny sack. It was used on several occasions as his deer rifle but it was so inaccurate because of the all of the tracer ammo being shot being used in battle. His rifle at the museum represents probably one of the more significant items being presented on display pertaining to the Peleliu battle. He would later become a member of the Devil Dogs Marine Corp League in Victoria, Texas, a member of the local Marine Corps League serving as its Commandant during 1985 through 1990 and was a member of the First Marine Division Association since 1982 through his death in 2000. If anyone served with my dad or knew my dad through these various associations, I would appreciate if you could contact me.
Warren Dalton, Houston, TX, March 21, 2010
It is a pleasure meeting you, albeit, on line. I see we are both Italian Americans. We are an organization dedicated to the recovery of MIA remains from WW II. We are beginning to research the Battle of Pelileu. To assist us, would you have a list of MIAs from the battle you can share with us? If not, would you know where we can get such a list? I began researching my father's past around 1992. My father was with the US Army and he served on Bataan, during it's defense in 1942. He survived the Death March and 3 years as a POW. Through my research, I met many Bataan veterans and immediately inherited about 300 intimate uncles. In 1997, I created the Battling Bastards of Bataan website: I still maintain the site. A couple of years ago, I was asked by Ken Moore to join Moore's Marauders as a historian and Philippine consultant. They are an incredible organization, in the sense that they have as active members, the type of scientific experts that you would need to actually accomplish many of these recoveries of remains. They have a forensic team. More importantly, they have many former special operation soldiers and sailors, who are able to and willing to go to some very extreme places to make recoveries, and they have a budget to fund such missions. Currently, we have a team in Manchuria looking for a Marine and former POW from Corregidor, who was killed in a Kempeitai prison. Next week sometime, I will be launching a new website for the former Civilian Prisoners of the Japanese. Since you are in the community of WW II, Pacific Researchers, I would like to put you on my mailing lists for all three of my endeavors. Let me know if you approve. The Bay Area Civilian Ex-POWs, BACEPOW, has launched a new web site. My warmest regards to your father. Thank you.
Frederico Baldassare, March on. I have given a copy to the Iwo Jima web site which they have posted. When I contacted the Marines Corps in Quantico they had an exact copy of mine in the files. They said in a letter to me that more than one copy had been done at the time of the interviews. I am sorry to hear of Major Horie passing. I wish I had him sign my copy when I met him. He worked in the same HQ building where my Dad's office was. I would see him in the hallways and got to talk to him many times.
Mike Skidmore, March 4, 2010
My brother was killed on this island. He was in the First Marine Division. His name was George Francis Bratsos from Boston, MA.
Gary Bratsos, Randolph, MA. February 17, 2010
Would love to hear from anyone who knew Jack Glencross, he was was with the 1st Marines and one of the first to assault bloody nose ridge. He is deceased now, but very seldom talked about pelilieu. He was only 17 years old when he was fighting for our freedom at pelilieu. God Bless all the brave individuals who so gallantly fought there. I am planning on going to the island sometime in the near future. Thank you very much for your reply. I have purchased your book. My father only opened up about Peleliu during the later years of his life. He lived to be almost 80. Peleliu was a very hard fought battle that cost us many lives. As you now the men there fought just as hard as any other island battle that we had. I did find his picture in one of the books I looked at that a friend briefly showed me. We can surely be very proud of our fathers. My dad was called back to Korea, and was one of the men that ended up at the frozen reservoir. Miserable again. Again thank you for replying.
Robert Glencross, January 26, 2010
My grandfather fought at Peleliu and landed with the 3rd wave on the left, White Beach, with Marine Air Wing 1. He was a Navy medic but was assigned to the 1st Marine Regiment until the airfield was taken, at which time he was detached to operate the field and continue medic work as needed. The link on your page has a picture of him, http://www.micsem.org/photos/battle_palau/25.htm. He is the one holding the stretcher at right. His name is Nate Painter from Arizona. He is alive today but if there are questions to ask him, I can forward and see if he will answer. He witnessed the Japanese tank charge but did not participate with the 1st after the 4th or 5th day as he went to the airfield. He does not talk much about this time, basically acknowledging it as the most de-humanizing event possible, but has opened up a bit to me. I hate to lose his first hand knowledge. Ask away and we'll see what he says.
Bruce Nelson, Caledonia, Michigan, January 3, 2010
My father's name was Burton Joseph DuCote. He was a Pharmacists Mate 3rd or 4th Class (I have seen two different documents with different listings). He was hit by a sniper while tending to a wounded marine. He was from Ville Platte, Louisiana. His nicknane was Red (He had bright red hair).
Gregory J. DuCote, 12 Nov 2009
I am in the process of reading every detail on your web site. My name is Jeff McReynolds. My father, James E. McReynolds (now deceased) was in the 3rd Division of the USMC based out of Guam during WWII. He never spoke of his time in the war, but since his death my mother has handed over everything she could find in the house. Of particular interest relating to your web site is an old, yellowed, typed document that I have entitled "Defence Plan of Iwo Jima." The document is 11 pages long and the paper stock and aged appearance are 100% identical to the document for the "Defence Plan of Chichi Jima" on your web page at http://www.pfweb.com/plf-usmc/jdefense.htm My jaw quite literally dropped when I came to your web page and discovered such a remarkably similar document.Any hints, ideas, etc. that you might be able to offer would be greatly appreciated. I am attempting to reconstruct my father's time in the South Pacific which is a difficult task as my father absolutely refused to ever discuss his experiences. I do know that he worked body-recovery detail on several islands after the battles and during the de-militarization period just after the war. Perhaps if I had lived through that I would refuse to discuss details as well. Best regards, and thank you for sharing your web site with the world.
Jeff McReynolds, 11 Nov 2009
The 1st Pioneer battalion was my Dad's outfit on Guadalcanal and Cape Gloucester. He rotated back to the States just before the invasion. He was in B company and I have talked to about eight of his pals. I have B company photo and a stenciled vest from C company.
Lewis Pound, 27 Aug 2009
Dear Dr. Finelli, Lena copied me on her response. I believe the publisher made a mistake on that photograph. I believe it is from the Navy Historical Ce>
Dr. Finelli:
This is in response to your letter dated 11 August 2009 requesting information on obtaining a specific photograph which appears on page 111 of Last Man Standing: The 1st Marine Regiment on Peleliu, September 15-21,1944, by Col Richard D. Camp, Jr., USMC (Retired).
We have reviewed all possible photo and subject files held in the Reference Branch, which would logically (by topic) hold the photo you requested. Despite a thorough search, we have not, unfortunately, been able to locate a print of the image. You may wish to contact Col Camp directly, to either obtain a copy of the image, or obtain more detailed source information regarding the exact location of the image. We hope this information proves useful.
Sincerely,
Lena Kaljot, Photo Historian,Marine Corps History Division, August 25, 2009
My father was in the Battle of Peleliu in 1944, Co. G, 2nd Battalion., 5th Marines, 1st Marine Division and was wounded on September 19, 1944, for which he was awarded the Purple Heart. His name was Marino Pippi. He passed away on October 25, 1998. I have posted photos, documents, and diary in .pdf format from his USMC album at PELELIU 1944: WWII BATTLE FOR BLOODY NOSE RIDGE IN PICTURES. I have a web site as well to honor him and present photos and documents from his Marine Corps album. It is called "War And Peace Through My Father's Eyes." I have started a Peleliu Honor List in order to post as many soldiers who were there along with their Co/division, etc. I am going to link your beautiful web site to mine as well. If anyone so chooses, they can pass along their family member with rank, division, awards…and I will post here as well. Thank you, Sir, for serving our country.
Valerie Pippi (Dau. Of Marino "Marty" Pippi), 21 Mar 2009
I found your website very interesting, not only as a student of military history, but because of a personal connection. I was reviewing the page on the Peleliu invasion when I saw the photos of the wrecked Type 95 light tank that stopped me in my tracks (pun intended). The father of my good friend Phil was Jay C. Blakely, USMC, 17th Combat Engineers (I believe) who was awarded the Navy Cross on 15 Sep 1944 for taking out (at least one) Japanese tanks that were counter-attacking across the airfield on Peleliu. I understand that there were precious few tanks available to the defenders, so the chances are that the one you photographed could very well be the same one Jay blew up by tossing a grenade down the top hatch. I will Phil to your site and maybe he can add more information. Thank you for the wonderful job you've done!
Matt Simmons, Board of Directors , Museum of the Soldier, Inc., 10 Nov 2008
I apologize for the address on this email, I don't really know who I'm looking for yet, but that's the point of this. My name is Alex Pendergrast, and I am a specialist in the Mississippi National Guard. I did a tour in Iraq attached to the first cavalry division. All that is just back story, though. I'm looking for more information on my Grandfather, Nolan Pendergrast. My father told me that he served at Peleliu, but couldn't remember what division he served in. When I was in Iraq, I was stationed with the 1st Marine Division, in Al Asad. Any information on my Grandfather would be very much appreciated, as I was planning to try and do something special on the anniversary of the battle later this month. I thank you not only for any information, but also for your service. Thank you,
SPC Alexander Pendergrast, 8 Sep 2008
I am writing a book about a Peleliu survivor named Herb Peterson who went on to own a prominent McDonalds franchise in California. He was with the First Service Battalion, First Marine Division. I am interested in finding another Peleliu survivor who would remember Herb from the assault. I would appreciate any help. Thank you.
Ann Marsh, 24 Jul 2008 Joan Somers Martin, Boston, MA, 15 Jul 2008
Dear Dr. Finelli,
I just stumbled across your Peleliu: USMC WWII Combat website, and was moved to tears reading your "Son's Visit" page. I am the son of a Peleliu Marine, and have yearned for years to make this trip myself only to have finances, obligations, and commitments get in the way again and again. My father is still alive, and went back himself, for the 50th reunion tour. Your written dialog and photographs are very stirring, as is your educated commentary on the related significance of the Truk Lagoon bombing. I really enjoyed reading your site, and hope to order a copy of your book as soon as possible. I wanted to express my thanks for your efforts on behalf of both our fathers, all their fellow veterans, and for all the ridiculously young boys who never left that island, physically or mentally. I live this trip vicariously through your writing.
Chris Sehmel, Olympia, WA, 1 May 2008
I am a professional photographer and wanted to share a photo essay I am working on honoring the battle of Peleliu. I would be honored if my link could be featured on your site and in return I will post your link on my site. Thanks, I went to Palau to scuba dive but my journey through Peleliu is what I will remember the most! Greak"> Good evening Dr. Finelli,
My dad was not in the Marines, but was part of the 81st Infantry Division who went ashore behind them. He carried a rifle and a camera. He took pictures of some places he served, including Peleliu and Japan (occupation). I have been trying to piece together a record of his service from (the few) existing official documents and our own mementos. I have not yet digitized all of the photographs yet. You may see some at my following site:
http://freepages.military.rootsweb.com/~allenfamily/index.htm If any of these photos are of interest, or if you want me to look for something specific, I will try to accommodate you. Non-commercial usage will be granted, upon asking; asking only proper credit and a link back to my site.
Michael Stone, Alabama, 24 Oct 2007
My grandfather, Roy J Jones, fought on Peleliu in 1944. Was part of the first wave of Marines to storm the beaches. I was too young to remember any of his stories, not that he talked a lot about it, but I remember him saying he was 16 years old and an E-5 during third time. If anyone has any information on my grandfather, I would greatly appreciate it.
Roy Jones, 23 Aug 2007
Hi – I came across your website as I am trying to learn about my father-in-law who served in Korea and 6 years in WWII. That is about all I know, and I am interested in researching what he did. He died in 1981, and I don't even know where to start looking. Can you give me some advice how you found everything you did. It's a beautiful webpage!! My father-in-law was Lt. Col. J. James Travers USMC. Thanks in advance for your time and advice,
Jill D. Travers, 27 Jul 2007
I am the Quartermaster of Sudbury's Veterans of Foreign Post 8771. Our membership consists of Combat, or Combat area, Veterans of all wars since World War Two. Included are Navy, Marine, Coast Guard, Army Air Force, Army. Warriors all. Our latest member has just retired from the Army following two tours of Iraq. We count amongst us a number of Marines. One was once a Major in the Cactus Air Force, Another was a young lieutenant wounded badly during the Invasion of the Marshall Islands. Another, a Sergeant wounded in Viet Nam. Many Tin Can Sailors who sailed their destroyers through some or all the battles of the Pacific. An Army Airman shot down in Europe & a guest of the Germans [POW] until war's end.
The picture was taken on the way to Japan, aboard the USS Jeffrey, APD 44, in 1945 for Operation Olympic by an Official Navy Photographer. Supposedly it was to be sent to each UDT's local newspaper in the event of death. It would have been the first 'public' acknowledgement of UDTs & their function. The war ended before we got to Japan. Secrecy no longer a priority & we were each given the opportunity to buy the picture. I bought it from the Official [enterprising Naval Reserve] Photographer. I think I might have been the only one who did. My reason was to destroy it as I did not think people would think me a fierce warrior because I was standing on a piece of cardboard like a sissy boy. I was a member of UDT 3. I was a replacement & trained at Fort Pierce. My name is on Team 3's bronze plaque at the Museum. Shipped out of Boston as a Plankowner on the USS Cogswell, DD 651, to serve in the South Pacific as part of Destroyer Squadron 50, Destroyer Division 100.An "ALL Hands" call from the FLEET for Volunteers for 'Extra Hazardous Duty' brought me to Fort Pierce and a berth in UDT 3 where I was happy until my discharge in 1947. The 29 wartime teams were shrunk to Temporary Teams Able; Baker; Charlie; Dog; Fox & Easy at the mic Bomb tests in July of 1946. We were involved in retrieving water samples from the target areas to test for radiation. I was married in 1945 & the extra jolt of atomic energy allowed me to father six children.
Your web site included the pictures at the Museum. I was charter member 247.You might remember seeing LCVRs from the President Jackson APA 18, when visiting the Museum. Enjoy your scuba adventure. Might interest you to know UDT did not even have two piece wet suits until the Korean War. I was then in UDT 4 & we had neither wet suits or scuba equipment. Like WW 2 we still had only Jack Browns & one piece cold weather wet suits. Don't nudge any big groupers. Look for red snapper or sheepshead & avoid the barracudas. I was so cold during my days of swimming, I am rarely comfortable in the shower unless the water is as hot as possible.
Don Peirce, USN, UDT 3, WWII. Sudbury, MA July 2007
Good evening Dr. Finelli,
My dad was not in the Marines, but was part of the 81st Infantry Division who went ashore behind them. He carried a rifle, and a camera. He took pictures of some places heserved, including Peleliu and Japan (occupation). I have been trying to piece together a record of his service from (the few) existing official documents and our own mementos. I have not yet digitized all of the photographs yet. You may see some at my following site:
http://freepages.military.rootsweb.com/~allenfamily/index.htm
If any of these photos are of interest, or if you want me to look for something specific, I will try to accommodate you. Non-commercial usage will be granted, upon asking; asking only proper credit and a link back to my site.
Michael Stone, Alabama
October 24, 2007
Mr. Finelli,
It is 2007 in July, my Dad, a member of K Company 3rd Batt 1st Marines 2nd platoon just passed on this past December 3 and was laid to rest in Calverton National Cemetery on Pearl Harbor Day. Dad was working in New York at one of the newspapers and was on the teletype so he was one of the first to read or hear about Pearl Harbor that is what came to mind as we arrived at the Cemetery. He and his best friend went out and joined the Marines and they spent boot camp and the rest of the war together until Peleliu.
Dad never talked much of the combat as you say. He spoke of Guadalcanal and Australia and how on Cape Gloucester . Puller had them lined up behind tanks as the went across an open field on the terrain. He was to the left of the tank trap that 2nd Platoon found themselves in on D day on Peleliu. He and another made their way to Capt Hunts CP and spent the first night on the Point cut off and in hand to hand combat. He never spoke about it, except to say he was lucky.I too have found some members of 2nd Platoon there are about 5 left alive from that battle. They have sort of adopted me. I always tried to find Marines on the Internet hoping to find guys dad knew. I found a cousin of Lt Woodyard who was killed the first day but that was all now after Dad's demise I am finding them.
We all owe so much to these men who help preserve the "World" I hope that when history looks back on the "Boomers" it finds them in good company with their Mothers and Fathers. No one wants war, I certainly do not not for me or my family or any other but I do not know how to end this fanatical insistence from abroad against our democracy. I hope that the voices from our fathers will guide us from the street of Heaven. For as we know the street of Heaven are guarded by the United States.
Thanks for putting up a website on Peleliu.
Bob Bittner July 06, 2007
Hello,
I am a graduate student in invertebrate biology who has been working on the ants
of Micronesia. Last week I published the descriptions of several species of
ants which are new to science. One of these species was first collected on
Peleliu Island only months after the terrible WWII battle there. As this
species has only been found on Peleliu, I have named it "Camponotus
peleliuensis," and I dedicate its naming to the U.S. Marines and Infantrymen
who fought there.
Please find attached the scientific publication in which this species is named
and dedicated. The description starts on page 9, its photos are in Plate 3B-D,
and the dedication is on page 10 under "Etymology." This paper appeared in the
journal "Zootaxa" on May 17th.
It is my sincere hope that the families of Peleliu veterans will accept my small
tribute. I join all Americans in sending them my appreciation for their
sacrifice on this Memorial Day.
Ronald M. Clouse May 28, 2007
Department of Organismic & Evolutionary Biology, and Museum of Comparative Zoology, Dept. of Invertebrates Harvard University
Click here to read Clouse's article and see a picture of the Peleliu ant, Camponotus peleliuensis
Dear Mr. Finelli:
I have your book and am fascinated by it. My father was an Army surgeon at Peleliu and was temporarily attached to the First Marines. After 14 years of research and writing, I have written a novel, Beyond Peleliu, which was recently published by Ravenhawk Press and which is loosely based on his life.
At Peleliu, he killed a Japanese night fighter with his bare hands; spent six days straight operating; went delirious; shot himself in the hand he used to kill the Japanese soldier; was court martialed for malingering;pardoned because of gallantry; and came home with a permanently splinted left hand that stunted his surgical career. Once home, he lied about his wound and became a violent, womanizing, alcoholic whose demons he passed onto me and that I passed onto my children.
The book is about the generational impact of combat and of Peleliu as well as the liberating power of truth. Although the novel is available through Amazon etc, I would be happy to send you a complimentary copy. Best wishes and thank you for your work.
Peter D. Baird, Phoenix, AZ, June 08, 2006
My grandfather, Roy J Jones, fought on Peleliu in 1944. Was part of the first wave of Marines to storm the beaches. I was too young to remember any of his stories, not that he talked a lot about it, but I remember him saying he was 16 years old and an E-5 during this time. If anyone has any information on my grand father, I would greatly appreciate it.
Roy Jones, August 27
Hi,
I just found an old 1944 article that mentions the name Harry L. Cannady. One of the comments on your page is from a family. Can you forward this message to them so I can send the article?
Thanks, Eric Mailander, June 7, 2007
Dear Sir,
I really enjoyed your Peleliu site and have a question. I believe our paths have crossed during the 2004 visit to Peleliu?? As a Peleliu researcher, I was particularly interested in reading Linda Frank's June, 2004 comments about her father. She mentioned that she had a journal attached to the message. I am currently writing a book about the 1st Marines ordeal on the island and would love to read the memoirs if you still have them. I have interviewed hundreds of Peleliu survivors, many from that regiment.
Thank you, Eric Mailander, June 6, 2007
Hello Dr. Finelli,
My name is Neil Pantelis and I'm from Chicago. My father (Constantine G. Pantelis) was a radioman on New Britain, Peleliu, & Okinawa (7th Marines). They just called him "the Greek" back then. I recently stumbled on your photographs of Peleliu and some of your writings on the internet. I have learned a lot about Peleliu in the past 10 years or so and I appreciate and share in your respect for those soldiers. Dad is 85 and doing well in Florida. He has been telling me much about his time in the service and I have made quite a few cassette recordings of him speaking. I will one day pass them on to my son who is 20 years old now. I just wanted to say hi and pass along a copy of the only photo we have from then (New Britain Island). Dad is in the bottom row all the way to the right with the his finger near the trigger of his Thompson. The Japanese were very close to this position. As you probably know, there was rarely a clearing on New Britain Island so this photo was quite an achievement for the photographer. Years back I was able to contact one other man in the photo by the name of Karl Crawford, a Navaho from California. He was happy to receive a copy of this photo because it was the only thing he brought back from the war and lost his copy in around 1969. Hope you and your family are well. A hello and thank you to your father. Click here to see the New Britain Photograph.
Neil Pantelis, Chicago, IL, February 8, 2006
A very interesting and touching tribute to one's father. Great Job !!
Ron K. in Albuquerque, NM, September 7, 2005
Hi. Something I would like to say to all Pacific veterans:
THANK YOU
M. Roman May 9, 2005
I just finishor what he and his brother Marines and Soldiers did there. I would love to visit the Pacific battlefields someday. The perspectives always seem broader in World War II photos. When I look at modern color pictures of the Pacific battle fields, they always seem so cramped and constricting.
I heard a few days ago from the son of LtCol John Butler. He was the skipper of LT 1/27 on Iwo Jima and was killed by a direct hit on his jeep by a Japanese 47mm antitank round on 3 March 1945. His son visited Iwo for the 60th anniversary. He wrote me the island is mostly covered now with 15-20 foot tall shrubbery that really blocks the views of specific locations.
In 2000 I was stationed in Kuwait at Camp Doha. I was the first sergeant for the Ground Element for CJTF-Kuwait. One day I was standing in line at the disbursing office waiting to cash a check when I felt a tap on my shoulder. It turned out to be my platoon leader from Desert Storm. He was assigned to ARCENT Headquarters and was in Kuwait for a big CPX. We got to talking about the old days and decided to take a staff ride on our route of attack through northern Kuwait in the war. We took some other folks along with us and left Camp Doha heading northwest into the Badlands near the old neutral zone.
I think I experienced some of the same feelings you did as you hiked up Pope Hill. In my case, it was my memories of Desert Storm. We found the spot where we broke through (overran really) the last Iraqi positions on the Highway going north out of Kuwait City into Safwan. We stood right on the same spot where we knocked out some Iraqi tanks in 1991, but 9 years later. We had one of the other soldiers take our picture on the crossroads. I felt like my younger (I know this sounds corny, but it's how I've always thought of it) ghost, or something, was standing behind me. I always felt like I left a part of me in the desert out there.
My dad is buried in Arlington National Cemetery. He served in Italy as an infantryman in the 85th Inf Div. He spoke very little about his wartime experiences, but I always knew they tortured him throughout his life. He was a career soldier who also served in the Korean War. He died much too young. I've been back there twice to visit his grave, the last time in 2003. Like you hiking down Pope's Hill, I was overcome with emotion at my dad's grave thinking about him and the cost of World War II, which is still being paid to this day.
I know some people would read your book and classify your trip as a vacation. I don't see it like that at all. It seems to me you took a sort of pilgrimage to those places. I really like the title of your book. I feel like I have a better than average understanding of the Marine Corps in World War II. Even to me, places such as Peleliu, Tarawa, and Guadalcanal, all seem like they might as well be on the moon, they're so far away. It must have seemed even more so to Marines like your dad in the 1940's.
It's too bad your book isn't in wider distribution. It really fills an interesting a little covered niche. It's a combination travel log and historical monologue. It was funny, because when I first started reading it, I thought, "I don't care anything about scuba diving." But it sucked me in, and I found just that part to be fun, especially since it's something I've never read about. But then I thought of it as a link to your dad's wartime service.
Thanks very much. Your dad had a unique and interesting career in the Corps. It's just fortunate that you had the interest in preserving his story. So many of them are being lost to us. There is so much to the military experience besides what we read about in battle histories.
Web sites like yours do a great service, because they remind people that war isn't just about the battles, but the entire experience, of which combat plays a huge role.
PS–Are you professional historian?
Keep up the great work,
Mark Flowers, March 20, 2005 & December 29, 2004 www.ww2gyrene.org
My name is Don Brizzolara and I am a petroleum geologist living in Alaska. I am a former Army veteran of the Vietnam era and have had a long passion for military history. I commend you on your wonderful Peleliu website. I have visited Peleliu and Iwo Jima on several occasions and will most likely make a return trip to Peleliu in 2005. Peleliu keeps drawing me back as it is a beautifully preserved WWII battlefield..a veritable time capsule. I noticed several of your photographs were taken by Gabe Ineichen. Gabe's father-in-law happens to be John Bailey, a Peleliu veteran and very good friend of mine. There is still much that I would like to accomplish up in the Umurbrogols…so many caves, tunnels and long forgotten fighting positions to explore. Hence, I must return before the scrub jungle returns it all to its natural state. Thanks, once more, for your wonderful memorial to your father. I found it deeply moving. I have often stopped to study in detail the photgraph of the Marines tossing their explosives…the one with your father in it…what a great photograph. The pained facial expressions tell of an absolutely horrific encounter. Please write when you can. I would surely like to hear more about your observations.
Don Brizzolara, December 15, 2004
My dad that was in the Marines. He passed away in 1989. He was in the 1st Marines, 1st Regiment, 2nd Battalion G company. He landed on White Beach, he was at Bloody Nose Ridgere needed. I have read different accounts of the battles and G company was not mentioned very often and we think this is why. We never knew which company he was assigned to during the battle. He said that of the 3 major campaigns that he was in, Peleliu was by far the worst.
Harry Cannady, July 29, 2004
I read your article on Palau Island. My brother was killed on Peleliu in 1944. He was with the 1st Marine Division and I think he was 22 years old when he was killed. I would like to speak with your father and show him a picture of my brother to see if he knew him.
Gary Bratsos, June 3, 2004
I read your article in the Tampa Tribune about your father and the battle of Peleliu with great interest. My father was with the 1st Marines and was also there. He kept a journal which I transcribed after his death in 2000. I found this to be very theraputic. I wished I had asked more questions about the war, but like so many of his generation it was just something they didn't talk about. He lived in Memphis, TN when he enlisted after graduation from Christian Brothers High School. I have attached the journal if case you'd be interested in reading it. He mentions Bob Hope and a number of the same things in your website. Thanks for all the information.
Linda D. Frank, June 2, 2004
My father's only sibling, PFC Alonzo Austin Ford, died on Peleliu in October of 1944. I grew up with stories of my "Uncle Lonnie". With the passing of my father last year, I have continued to regret not telling my uncle's story. A photo taken of him very shortly before his death is in the book, "The Old Breed". Dad found it quite by accident while browsing a bookstore years ago. The fact that Lonnie would be remembered through that book meant a great deal to my dad. I enjoyed reading about your father's journey on that same little island. Our generation is indebted to men like your father. Thank you again for sharing his story.
Martha J. Fry, June 1, 2004
That is one terrific web site. Congratulations on your excellent work. I read about it in the Sunday Tampa Tribune and immediately went to your web site. I think it is a great tribute to America's Greatest Generation.
Allen D. Gwyn, May 30, 2004
Great website! I'm Phil Orr, and I provided the present day photos of Peleliu for the Marine Corps monograph Bloody Beaches that you reference. I've traveled extensively in the Pacific, and worked on the 40th anniversary of the battle of Guam and the 50th of Guam, Saipan and Peleliu. I plan to return to all three next year for the 60th anniversaries and wondered if you might be interested in a visit yourself. The visit will probably occupy the entire month of July 2004.
Phil Orr, Riverside, California, July 28, 2003
Ed Reply: Thanks for your note and I will give your suggestion serious thought. I have already booked a trip to Truk, Yap and the Palaus (including Peleliu) for early in 2004. I've made arrangements with Tangie Hesus (highly recommended by Everett Pope) to guide me to the battle sites on Peleliu. I'm looking forward to diving the waters around the islands and visiting the battle sites where my father served in the USMC and also keep my own personal journal of thoughts and impressions. Here's Tangy's note to me from Peleliu:
Hey Pat,
Thanks for your wonderful e-mail I received from Sam's tours. Sorry I couldn't reply sooner but here I am now. I have a few questions regarding your trip to Palau. First "How long will you be diving with Sam's tours? Second "How long do you want to stay with me in Peleliu?" I suggest 3-4 days on Peleliu will be enough time to cover all the sites. I'll be waiting and looking forward to your arrival.
Best regards,
Tangy (the jungle boy)
Phil Orr: I met Tangie in 1994 and Everett Pope in 1998 at a Medal of Honor Convention here in Riverside, Ca. On the archaeological side, I prefer the summer at the end of the dry season, since there is less vegetation then and things are easier to find/see. I think you would be surprised at the sheer volume of detritus on from the Japanese freighter. I found it somewhat puzzling that locals would seemingly pretend not to know about things such as a pillbox that might be 40 yards from their house. At the same time they seemed very nonchalant about potential lethality. I remember Tangie kicking a hand grenade out of his way for example. I never really tried to explain it, but it did make for some interesting tidbits to add to various things I wrote. I personally had to learn which pieces of ordnance to be afraid of over the years, and it is everywhere. But I distinctly remember the feelings that if it hadn't blown up in the 40 or 50 years it had sat there, what was the likelihood of it doing so while I was briefly there? Sometimes I guess we doubt our own mortality. But, I will no longer disturb a 6.5 cm knee mortar round for example. Is there wisdom with age?
Ed Reply: I have received a copy of the Marine monograph Bloody Beaches in mint condition. Noticed your photos on pages 19, 28 and 33 during a quick perusal before sending it via FedEx to my father. The maps are very detailed, and I saw that one of your photos showed ordnance scattered about. My father has identified himself in a photograph on page 36, standing up as he and other Marines launched grenades or other incendiary devices. This was corroborated by two of my siblings who picked him out while leafing through the booklet. We have pictures of him from those days, and it is easy to recognize him. His right hand is bandaged from a bullet wound. He still carries the scar. My sister asked him why he didn't follow the fundamental rule "duck and cover."
Phil Orr: That's pretty cool, and may even be the first time he's seen the photo. I wonder though if there is a second edition, as in mine it's page 30. I think I noticed page differences in other emails you have mentioned about the book. I believe in that monograph I have about ten photos, but they also gave me credit for one of the Tom Lea paintings. I had Everett Pope and Arthur Jackson sign the monograph at the 1998 Medal of Honor Convention. In fact I have the complete monograph series, which the Marine Corps Historical Center was kind enough to give me. It was actually by chance that I had met the Director after returning from the 50th's and then found him in some of my photographs from the various ceremonies. Their photographs didn't turn out, so I provided them for a couple issues of Fortitudine and that led to the Peleliu monograph…which luckily for me was about 8 months behind in its publication date. I now have over 2000 photos of extant artifacts on various islands going as far back as 1982 and including 11 bodies that I have discovered.
Ed Reply: My father was wounded on Hill 260 while serving with 2/7. The hill might be one of the Five Sisters. He got there by going down the west road and climbing the ridge. The battle went on for months, and they were still pulling enemy soldiers out of the caves in 1947, so the idea of a traditional "front" does not apply to the network of caves and tunnels on Peleliu.
Phil Orr: Five Sisters is consistent with what is reported as the line of battle on the 26th. From the West Road it would have been about 150 yards over the karst and he would have had to cross in front of the mouth of Death Valley. Hill 260 is bound to be on a map somewhere, but I have yet to see a very detailed one. Perhaps some of the early writings would contain a good map. Suffice it to say though that the Umurbrogol is a very confusing place. Prominent ridges are easy to spot from without or from the air, but once you get "into" it, it kind of closes in around you. If it's 1000 yards from Hill 100, it's going to be quite a bit more west than north. Your Dad also references "Bloody Nose Ridge," which is quite prominent. There is a photo of it on page 42 of the monograph and currently there is a monument on it as well. The two ridges in the photo correspond to the two lowest right ridges depicted near the road intersections on the map on page 27 of the monograph. While the line of battle was a little beyond it on Sept 26th, it sounds like he was probably right near there. Although, you'd have to say that the line of battle as depicted in various books was actually quite fluid given that most of the cave positions were only discovered when they started firing upon U.S. troops…. often after they had passed by. It should be real easy to locate Hill 100, which is just off the East Road, which still exists. I've never actually pinpointed it, but know about where it is. Tangie may know. Actually there are about 500 caves and many of which are still sealed from demolition and nearly impossible to locate now. There are 8 different cave configurations on Peleliu.
Here is a link showing Major Horie standing at the right shoulder to the General signing the surrender document. He is rather short in stature. Horie was lucky in that he spent considerable time on Iwo Jima. He alternated back and forth between Iwo and Chichi, and just happened to be on Chichi when the invasion started. Otherwise – – –
http://www.history.navy.mil/photos/events/wwii-pac/japansur/js-10k.htm
John Wick, M.D., Butler, PA Sunday, July 15, 2003
Just a note to thank you for remembering these men. My father Paul Maass fought during this battle and due to the battle he has spent almost every day of his life in pain. Though continues to go on even to this day at 77 y/o. My Dad was only 17 when he was in this battle. These men were quite a breed, he is the most wonderful man and father a daughter could have. A Marine in all respects! Could that be due to the horrific battles he went through? We are so very proud of him and of all the others who have survived and or are deceased that fought for our country without question. This battle was seldom talked about or publicized. All I can say to you all is Sempe Fi Sir! God bless our Men and this America.
Received July 23, 2003
My father-in-law, Willie Savory, who was living here in the States with me, was a Bonin Islander, and in fact, was one of the group that came back to Chichi from Japan immediately after the war, and brought up the subject of the war atrocities that had occurred there with Colonel Rixey. I think they followed the LST down from Japan in an old Japanese fishing boat that they had "borrowed."
Willie and two of his cousins worked with the Marines in dealing with the Japanese prisoners, helping with the interrogation because of his English speaking abilities. LSTs were used to transport the prisoners back up to the mainland, and those thought to be involved with war crimes, were taken by LST to Guam for trial. Six or seven were hanged there. Horie was judged not to be involved with these crimes and in fact, his testimony helped in convicting some of them.
Willie Savory came in contact with quite a lot of these Chichi Marines at that time, and they wanted him to attend their reunion. I was willing to take him, but Willie's health and eyesight had deteriorated to the point that he did not feel that he should make the trip. They called again two years later, but Willie had passed away by that time. They suggested I attend in his place and I did so. Hence my involvement with the Chichi Marines. I have made it to four reunions and enjoy just sitting and listening to the stories.
As I understand it, these guys essentially watched the battle on Iwo Jima from ships off the coast, as they were being held in reserve for the invasion of mainland Japan. Fortunately, the big bomb negated that. They ultimately were sent to Chichi to demilitarize it after the Japanese surrendered Chichi on the destroyer USS Dunlap anchored just outside the harbor at Chichi.
I must say that in listening to some of their stories, I detect a sense of resentment that they were not used at Iwo Jima, as well as a sense of luck that they did not have to endure that.
Incidently, Horie ultimately went to work for the United States in a civilian capacity. He ultimately came to manage the motorpool at Tachikawa Air Force Base, and had a lot of people working under him. He was crippled up as a result of war injuries he had sustained in China before going to Chichi and this problem became worse as he aged. He had to use crutches or a cane. He ultimately went into an Alzheimer-like state, and now is confined to some type of nursing home. My wife has had several lengthy telephone conversations with Horie's daughter, but unfortunately this daughter died shortly after Christmas of 2002. His son is an engineer who works all over the world. I have never spoken with him, but Hank Stedman in Florida has corresponded with him.
Chichi, when I was there, was very small, remote, almost pristine. We had only about two hundred people there, including the islanders. Vegetation had covered most of the scars of war, although the gun mounts and pill boxes could be readily seen if one took the trouble to look. In some way, it was hard for me to believe that a war had involved the island. In fact, the island had taken a lot of bombing. The islanders did tell me of the atrocities, and incidently of the American flyer who had been shot down, parachuted into the water, was drifting to shore, only to be picked up by a submarine. At that time, no one even knew the name of George Bush, but of course that is who it was.
John Wick, M.D., Butler, PA Sunday, April 27, 2003
Your website is a fascinating, detailed recount from a unique perspective. I was especially impressed by the account of the Peleliu battle. I am in possession of a blood-soaked Japanese document that has been passed down through my family. It is noted: 'Captured on Peleliu, Palau Islands Sept. 1944′. It is signed A.E. Lane, Capt. USMC. Does Mr. Finelli remember running into Captain Lane during his incredible adventures in the Pacific Theatre? Can you recommend books that might have the names and units of the warriors that took part in the Peleliu Battle? I think the Chronology on your website should have been required reading for every high school and college student in America. They can compare what their life is like at 20 years old versus what Sgt. Finelli was doing for his country at 20 and be thankful they were born in a different generation. I did 7 years in the Navy in the 70's. Thank you, Sgt.Finelli for your service to this country. If you ever run across the name of Capt. Lane please drop me an email. I would like to find his connection to my family and perhaps return this document to his family.
William Majeske, Saturday, December 21, 2002
My godfather, (Ed A Amaral) was from Bridgewater, MA by the way. Squad leader, Marine Assault Rifle Co. B, 5th Marines, 1st Mar Div. Orange Beach. Bronze Star with combat "V" . Uncle Ed had lead his squad across the ****in' airfield and I don't know how the hell he made it. He was a lucky SOB. He got it in the leg on Peleliu (on 25th) and then again on Okinawa for a Gold Star Purple Heart. You know, we know next to nothing about what occurred to him on Okinawa. He clammed up and must have gone inward or something.
… I met a guy here in So Walpole, MA
a few weeks ago who is from Norwood, MA and was also on Peleliu. Sal Freni. real nice guy. Living room is a "Peleliu Church"…
I can't believe some of the stuff these guys went through. Your Dad saw a lot of 'crap' in that 'meat grinder' called Peleliu. Give him a pat on the shoulder for us, will you? My Uncle Ed was in the assault, Orange Beach, crossed the airfield and was in tank battle and made it thru 10 days on Peleliu until he was wounded. Of course, upon getting 'healed' he went right back and then ……Okinawa…
Your Dad did very, very well after the war. I credit to him. Tell him we say 'thanks' for a job well done.
"Never, ever forget Peleliu".
R.A. – Walpole, MA, Thursday, October 31, 2002
Editors note: Sergeant Edward Amaral received the Bronze Star Presidential Citation for heroic achievement while serving as Squad Leader, Marine Assault Rifle Company B, 1st Battalion, 5th Marines, 1st Marine Division, in action against enemy Japanese forces on Peleliu, Palau Islands from 15 to 25 September 1944. According to the citation: "On one occasion, when his men attempted to take cover from hostile mortar fire under a cliff after their craft had struck rocks during landing, he stood up in an exposed position and led his men forward over a steep ledge to the side of an airstrip and, walking upright 250 yards through the intense mortar and machine gun barrage, hunted hostile pillboxes and installations."
This is a nice site very interesting reading I appreciate you putting it online.
Nick -NYC, Sunday, October 13, 2002
I just found your site and want to tell you it is a great tribute to your father. The Peleliu battle was arguably the most savage of WWII, but little was said about it until much later on. Your father and the guys in the UDT teams were the bravest of the brave. I was looking for sites about Peleliu and found yours which is the first time I have seen it. My father was a Seabee attached to the 1st Marine Division for the Peleliu battle, he was in a shore party on Orange beach. He said the combat on Peleliu was unbelievable. He was also on Ulithi Asor in the Western Caroline Islands before going to Okinawa. I found it surprising that they were both on the same Islands. Great web site.
J. R., Friday, September 27, 2002
A wonderful tribute to you Father and nicely done. Shake his hand for me and tell him "good job, well done Marine" Semper Fi.
D. S. MSgt USMC(Ret) Columbia, SC – Monday, September 09, 2002
This is a great site! This story needs to be known and REMEMBERED..
S. B. Maynard, MA USA – Monday, July 29, 2002